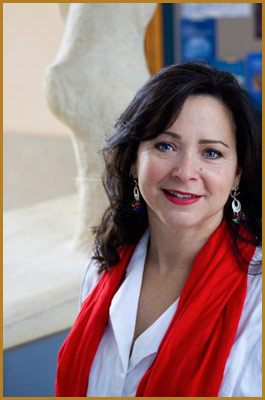 When I was a kid, I wanted to be an archaeologist. By the time I entered college, I had forgotten my dreams of digging in the dirt and ended up with a degree possibly even less marketable than archaeology—English. My love for ancient history went underground as I threw myself into a career writing marketing materials for banks, corporations, and tech companies.
I reconnected with my love of the past when I started telling my kids stories about some of Alexander the Great's most outlandish antics. They started asking for more, so I wrote a kid's biography on that crazy character and in 2006, Alexander the Great Rocks the World was born. The book was well received and was named a VOYA Honor Book for nonfiction and to the list of "25 Books all Georgia Children Should Read" by the Georgia Center for the Book. In 2010, my biography of Cleopatra—Cleopatra Rules! The Amazing Life of the Original Teen Queen—was released and was similarly well received.
In 2011, I moved into young adult historical fiction with the release of Cleopatra's Moon (Arthur A. Levine/Scholastic), named one of the best books of 2012 by the Center for Children's Literature. The novel is a coming of age story of Cleopatra's real-life daughter, Selene, and offers a glimpse of both Egypt and Rome during the latter's transition into the age of Empire. The novel earned excellent reviews in Publisher's Weekly, The Wall Street Journal, The Los Angeles Times, and other national outlets, including Atlantic online and EW online.
My latest young adult novel, Curses and Smoke: A Novel of Pompeii (May 2014), tells of the story of two teens in the weeks leading up to the eruption. Publisher's Weekly said the novel "makes clever use of the historical eruption to give her tragic climax a bitterly ironic twist." Kirkus said, "the eruption engenders considerable tension as the lovers try to escape."
In 2013, my midgrade series on mythology—Secrets of the Ancient Gods— was released by Boyds Mills Press. School Library Journal called the first book in the series—Anubis Speaks! A Guide to the Afterworld by the Egyptian God of the Dead—"wickedly funny" and "chock full of interesting information." It was a Cybils Award Finalist for midgrade nonfiction. The second in the series, Hades Speaks! A Guide to the Underworld by the Greek God of the Dead released October 2014. And Thor Speaks! A Guide to the Norse Realms by the Viking God of Thunder released in 2015.
In 2019, my biography of kick-butt ancient women rulers released, also published by Bodys Mills/Kane. Warrior Queens: True Stories of Six Ancient Rebels Who Slayed History tells the little known stories of queens who took up arms in defense of their people and queendoms. Kirkus said they were "all stories worth knowing," and SLJ Curriculum Connections noted that, "It is interesting to compare the stories of women with strong voices from history just as women today are developing strong voices of their own."
For more than a decade I have served as a docent at the Michael C. Carlos Museum of Antiquities at Emory University where I get to share my passion for ancient history with visiting school kids. Few things make me happier than showing off our Egyptian mummies and breathtaking classical statues. I am always available to give tours to interested teachers, students, and homeschoolers.
I also love speaking at schools, festivals, and conferences and do so whenever possible! My programs range from funny mythology for younger students, to serious discussions about the ways ancient politics influence our thinking today for high schoolers. In addition, my observations on the connections between ancient practices and modern habits appear in The Huffington Post. Access my columns here.
---
In 2019, Vicky introduced herself to fifth-grade students of two schools with whom she was paired to serve as writing mentor (via #kidsneedmentors).
---
In 2015, Neptune Middle School in Florida announced Vicky's visit with this fun production:
---
Vicky at National Junior Classical League Convention in 2014
Photo credits:
Photographs of Vicky Alvear Shecter: Vania Stoyanova
Slider photograph of the pyramids of Giza: © Hedwig Storch, licensed via Creative Commons