Winner, 2015 The Historical Novel Society
Indie Award, Runner-Up

"This truly is the finest book I have read this year, an emotional roller-coaster that educates while it entertains. Its impact will stay with me for quite some time." –Parmenion Books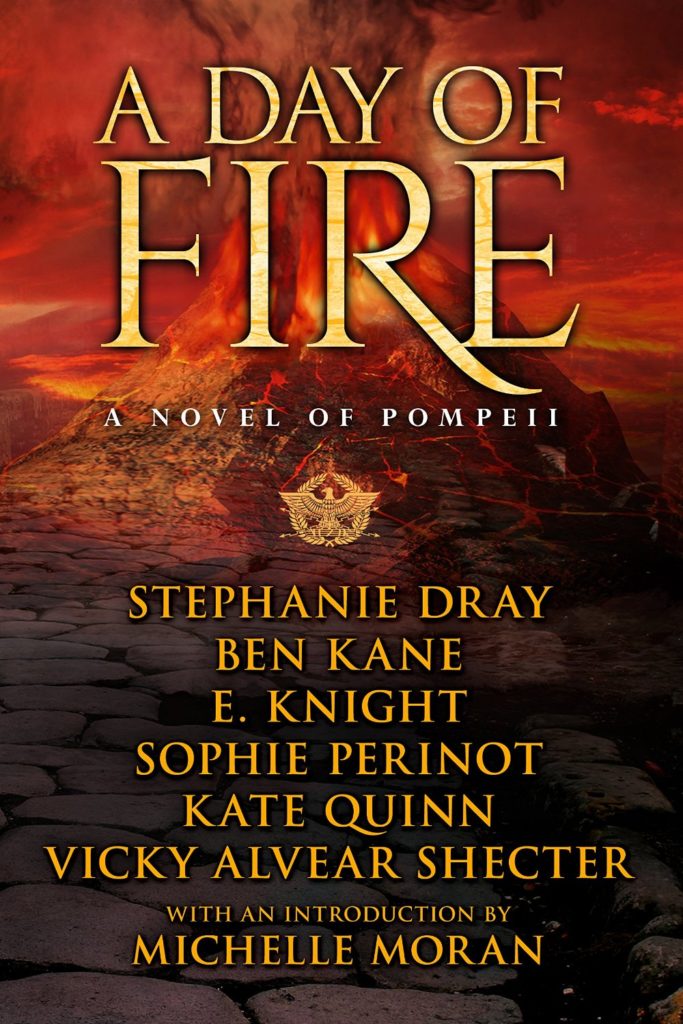 One story, six authors. A powerful creative collaboration novel where characters weave in and out each other's stories/chapters, culminating in a fresh and powerful look at the lives of those who lived in the ancient city.
Pompeii was a lively resort flourishing in the shadow of Mount Vesuvius at the height of the Roman Empire. When Vesuvius erupted in an explosion of flame and ash, the entire town would be destroyed. Some of its citizens died in the chaos, some escaped the mountain's wrath . . . and these are their stories: A boy loses his innocence in Pompeii's flourishing streets. An heiress dreads her wedding day, not knowing it will be swallowed by fire. Ex-legionary stakes his entire future on a gladiator bout destined never to be finished. A crippled senator welcomes death until a tomboy on horseback comes to his rescue. A young mother faces an impossible choice for her unborn child as the ash falls. A priestess and a whore seek redemption and resurrection as the town is buried. Six authors bring to life overlapping stories of patricians and slaves, warriors and politicians, villains and heroes who cross each others' path during Pompeii's fiery end. But who will escape, and who will be buried for eternity?
"A Year of Ravens is one of those memorable books that will live on in your imagination for years to come. Each scene, written with exquisite skill, vivid imagery, and attention to detail, is reminiscent of the best motion picture moments that we enjoy over and over." ~UNRV History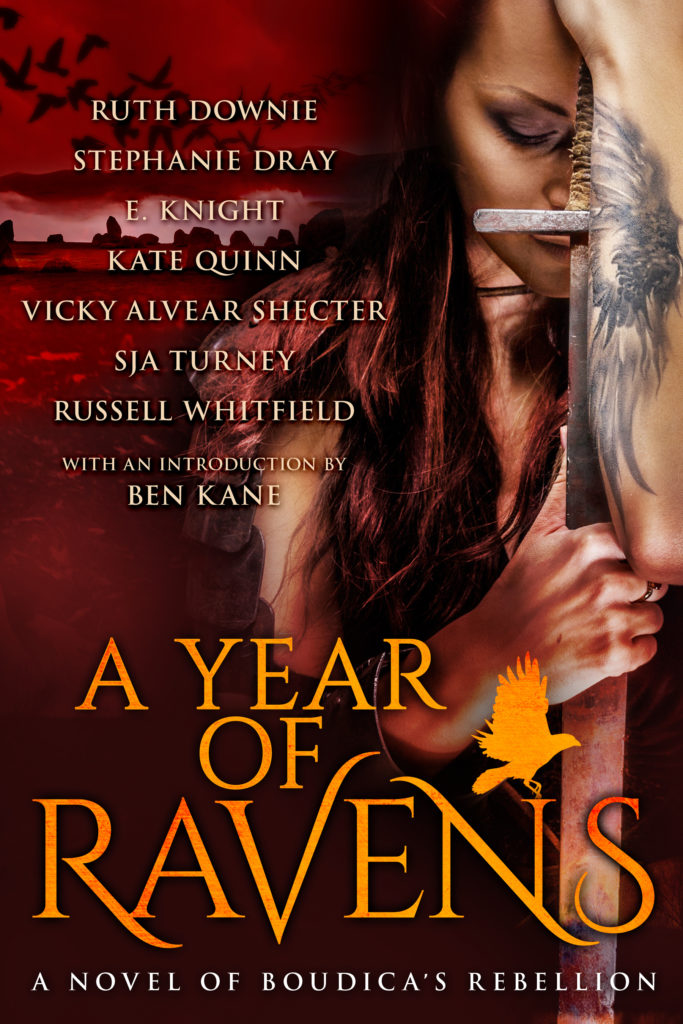 One story, seven authors. A powerful creative collaboration novel where characters weave in and out each other's stories/chapters, culminating in a fresh and powerful look at the iconic and tragic confrontation between the Celtic queen and the Roman army. Britannia: land of mist and magic clinging to the western edge of the Roman Empire. A red-haired queen named Boudica led her people in a desperate rebellion against the might of Rome, an epic struggle destined to consume heroes and cowards, young and old, Roman and Celt . . . and these are their stories
A calculating queen sees the sparks of revolt in a king's death.
A neglected slave girl seizes her own courage as Boudica calls for war.
An idealistic tribune finds manhood in a brutal baptism of blood and slaughter.
A conflicted warrior hovers between loyalty to tribe and loyalty to Rome.
A death-haunted Druid challenges the gods themselves to ensure victory for his people.
An old champion struggles for everlasting glory in the final battle against the legions.
A fiery princess fights to salvage the pieces of her mother's dream as the Ravens' circle.
A novel in seven parts, overlapping stories of warriors and peacemakers, queens and slaves, Romans and Celts who cross paths during Boudica's epic rebellion. But who will survive to see the dawn of a new Britannia, and who will fall to feed the Ravens?
Odysseus is easily the most iconic voice in A Song of War and I honestly thought Shecter crazy for attempting to write him, but her interpretation blew me away and left me in absolute awe of her imagination and skill. ~Flashlight Commentary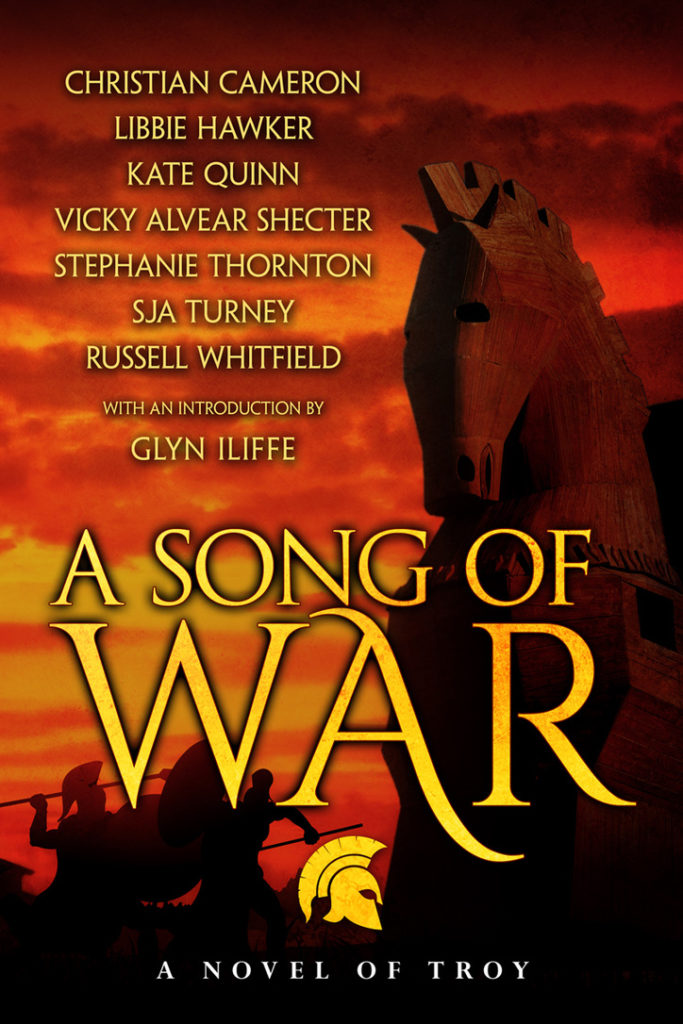 Troy: city of gold, the gatekeeper of the east, a haven of the god-born and the lucky, a city destined to last a thousand years. But the Fates have other plans—the Fates, and a woman named Helen. In the shadow of Troy's gates, all must be reborn in the greatest war of the ancient world: slaves and queens, heroes and cowards, seers and kings . . . and these are their stories.
A young princess and an embittered prince join forces to prevent a fatal elopement.


A tormented seeress challenges the gods themselves to save her city from the impending disaster.


A tragedy-haunted king battles private demons and envious rivals as the siege grinds on.


A captured slave girl seizes the reins of her future as two mighty heroes meet in an epic duel.
A grizzled archer and a desperate Amazon risk their lives to avenge their dead.
A trickster conceives the greatest trick of all. 

A goddess' son battles to save the spirit of Troy even as the walls are breached in fire and blood.
Seven authors bring to life the epic tale of the Trojan War: its heroes, its villains, its survivors, its dead. Who will lie forgotten in the embers, and who will rise to shape the bloody dawn of a new age?
"A Sea of Sorrows brings fresh perspective to Odysseus' journey and presents thought-provoking ideas about the ancient world." E.Davies
Odysseus as You've Never Seen Him Before
Odysseus, an infamous trickster of Troy, a vaunted hero of the Greeks, left behind a wake of chaos and despair during his decade-long journey home to Ithaca. Lovers and enemies, witches and monsters–no one who tangled with Odysseus emerged unscathed. Some prayed for his return, others, for his destruction. These are their stories…
A beleaguered queen's gambit for maintaining power unravels as a son plots vengeance.
A tormented siren battles a goddess's curse and the forces of nature to survive.
An exiled sorceress defies a lustful captain and his greedy crew.
A blinded shepherd swears revenge on the pirate-king who mutilated him.
A beautiful empress binds a shipwrecked sailor to servitude, only to wonder who is serving whom.
A young suitor dreams of love while a returned king conceives a savage retribution.
The Odyssey Through the Eyes of its Shattered Victims
Six authors bring to life the epic tale of The Odyssey via the monsters, witches, lovers, and warriors whose lives were upended by the antics of the "man of many faces." You may never look upon this timeless epic—and its iconic ancient hero—in quite the same way again. In the tradition of Madeline Miller's Song of Achilles, and with the spirit of Lindsey Davis' The Third Nero, and Kate Quinn's Mistress of Rome, A Sea of Sorrowtransports you to the endlessly fascinating world of Homeric Greece.